Skip to Content
Our Hotel
At The Intersection of Old And New
At the intersection of St. Charles Ave. and Common St. in the heart of present-day Central Business District, the St. Charles Hotel opened its doors in 1837. A marble-draped marvel of Greek influences, its dignified dome, Ionic columns, and Corinthian portico towered over the street. Passing streetcars would ultimately bear witness to the fire that destroyed the hotel in 1851. And again in 1894. Each time the hotel would be rebuilt, and each time it returned as the gathering place for politicians, celebrities, businessmen, and royalty.
Location
Hotel Indigo New Orleans French Quarter is located in the Central Business District, just a few steps from the world-famous French Quarter.
Our Neighborhood
One of the city's most vibrant neighborhoods, Downtown New Orleans (aka the Central Business District or CBD) is a crossroads of historic architecture and contemporary life.
People of NOLA
New Orleanians have an almost indescribable joie de vivre. They live their lives authentically and encourage visitors to do the same.
Takin' It To The Streets
There is nothing quite so uniquely "New Orleans" as the second line. Born from the union of West African burial traditions and the mastery of classical brass instruments by Creoles, the tradition of the second line dates back to the early nineteenth century and the emergence of Social Aid, & Pleasure Clubs. Formed of a basic functional need, these clubs came to prominence as a way for disenfranchised African Americans to organize, support each other, and collectively overcome hardship. They were social organizations, woven into and supporting the fabric of community, from weddings and celebrations to another New Orleans hallmark – Jazz Funerals.
Second Line Celebrations
It is from this tradition of Jazz Funerals that second lining originated. While the funeral procession from church to cemetery was an insular affair, accompanied exclusively by solemn dirges and family members of the deceased, the second line was the celebratory coda. A parade open to any and all, an occasion to rejoice in life and the magnificence of this terrestrial plane. The tradition has evolved over the centuries, blossoming across parishes, entrenching itself in the daily ritual of life, marking funerals and celebrations, or for no other reason than to convene in unabandoned merriment.
Merch Made Here
You won't have to go far to score authentic New Orleans goods. Our market is stocked with NOLA essentials like The Antidote Juice for cold press juices and juice shots; Southern Rhoades Apothecary's scrubs, lip balm, and bug spray; and coozies, t-shirts and custom Indigo swag by Dirty Coast.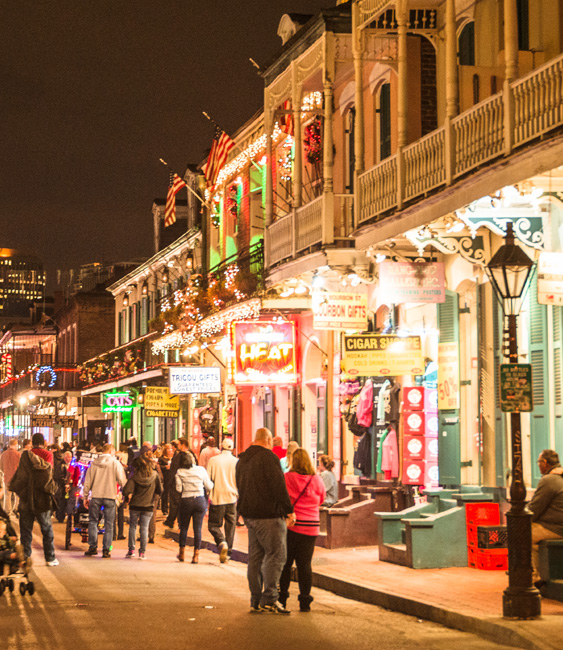 Partnering For Good
We're partnering with Second Line Arts Collective on a variety of enriching initiatives related to music and education in New Orleans. Whether we're answering the call for donations or providing a room for a visiting educator, we're proud to support the work of this 501(c)(3) non-profit organization devoted to cultivating artistic excellence in students.